We sit regularly for a darling golden doodle named Ollie.  You've probably met him through other posts.  He's a really charming, sweet pup.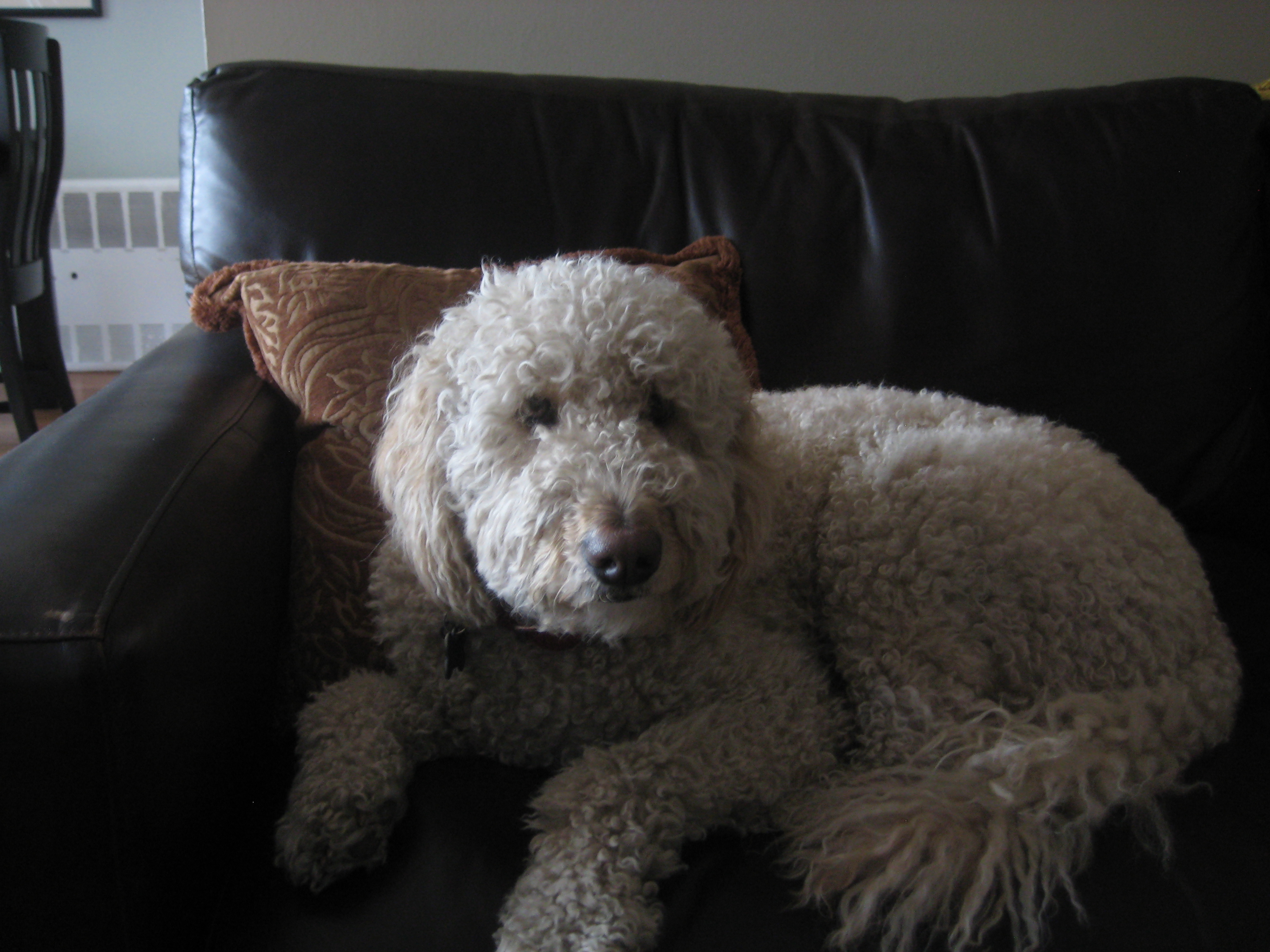 We took him this past Friday when his owner, our neighbor, went away for the weekend.
Friday was spectacular.  Since Ollie is spoiled at home by his momma, we let him do the same things at our house – sleep in bed with us, curl up on the sofa, eat extra treats.  He returns love to us in the form of looking cute, snuggling and licking our feet.
Saturday was great too.  We left Ollie home while we ran errands from 8:30 until two in the afternoon.  We walked him, he did his business, and was fabulous.
Sunday morning, our nephew came over so we could all go skiing.  We made sure Ollie did his business in the morning and we walked him.  We were gone seven hours.
When we arrived home, I notice something smelled a bit off in the apartment.  The boys started unpacking the ski stuff and I immediately took Ollie for a walk.  He did not finish his business.  It was suspicious.  After returning with Ollie, there was a knock at our door.  It was my normally thoughtful neighbor who lives down the hall.
"Hello!" I said as I opened the door.
"A word of advice," she started.  I knew this could not be good.  "When Ollie is staying with you and you leave for the entire day, you should put him back in his own apartment.  He's unfamiliar with your place and he whined all afternoon.  It was terrible.  I talked to D [who lives next door to us] about it and he agreed it was awful."
I was taken aback, of course, as she was rather harsh, I thought.  I apologized, closed the door and when I rounded the corner back into the living room, I noticed Ollie vomit on the wood floor near the sofa.
I yelled for C and then saw a second clump of vomit near the dining room table.  I continued to smart from my conversation with our neighbor as the vomit was graciously cleaned up by C.  I sent our nephew on the hunt for other former bits of Ollie that could have been deposited around the apartment.  I was certain there was more.
Sure enough, we were alerted to two piles of scat on the carpet in the bedroom and one large dried patch of urine that had bubbled the antique Iranian rug on loan from my mother-in-law.  My heart about broke in two.
Ollie had followed us into the bedroom and then looked at us and down at the scat on the carpet.  I asked him if he was okay.  Was he sick?  Was he mad at us?  No response.  He turned around and left the room.
C went out to buy some Nature's Miracle, which we were told was the best, for this sort of situation.  [Side note:  Grocery chains King Soopers and Safeway do not stock Nature's Miracle.  C drove all over town looking for it.]
While C was out, I went next door to apologize and was met with the same cool attitude I got from our first neighbor.  He said he didn't care about the whining, he just felt bad for the dog.  I wish I had been calm enough to tell him the dog was sick and would've whined whether he was at home or at our place.  I wish I could have told him we were doing penance for the whining that disturbed him.
Monday I had the day off from work.  My first order of business was putting Ollie back at his momma's apartment while I met my coffee date at 9.  I dropped the rug off for cleaning at 10.  The first thing the rug guy said when he saw the damage was, "Wow…this is a really nice rug.  Where did you get it?"  Sigh.
When I came home at 10:20 I took Ollie out immediately. Though he'd eaten his meal the night before, he still hadn't completed his business.  Five more times during the day I took the dog outside for extra long walks around the block.   I felt a prisoner to him and dared not leave him alone for a second.  Ollie seemed in good spirits, however, and did a good amount of cuddling.  I baked cookies and he was underfoot the entire time.
Finally, I took Ollie out before C got home in a final attempt to make sure he was empty before his owner was home at 8:30.  C and I had plans to be out for dinner.
After a jaunt in the park including a short run, Ollie seemed worn out, but still had not completed his daily constitutional.  I let the leash loose and had him run in the open space off the park's concrete walks.  Almost immediately, he laid down in the dry grass and started rolling and shoving his head into the ground.  I yanked him up by the collar but it was too late.  Hundreds, maybe thousands of splinter-sized dry grass clippings were stuck in his curly cue fur.  I attempted to brush them off but to no avail.  There was no way around it.  Ollie needed a bath.
On our way back to our building, Ollie stopped and sniffed at a tree.  I told him that we were not stopping again unless he was going to finish his business.  Sure enough, he met my eyes and completed the task.
I spent an hour giving him a bath.  He refused to shake off in the tub, so did it instead in the bathroom.  Mud and grass coated the tub and the walls of the room by the time I put the dear doodle back in his own apartment.  I took a shower in our other bathroom and by the time C came home I hugged him tight, whimpering, "wine."
Having a day to contemplate the ordeal I'm already convincing myself it's not nearly as terrible as I thought it was.  Isn't that just the way it is when you love someone or something or some place?  If you experience less than sunshine, it tends to fade quickly and that overwhelming love comes back.
After work yesterday I told Ollie's momma everything that happened just so she'd know he got sick in the house and why he smelled like Herbal Essences shampoo.  She said he was fine and so happy.  The entire time I was reiterating the story, Ollie was licking my hand and leaning against my leg.
I so love that dog.