Snow has been falling lightly all day and I've stayed snuggled in the apartment.  I've just figured it out.  I'm n-e-s-t-i-n-g.
I've made vodka cream sauce.  I have a load of Hallmark movies on the DVR.  Chris is working at the dining room table.  I'm planning to stay in jammies.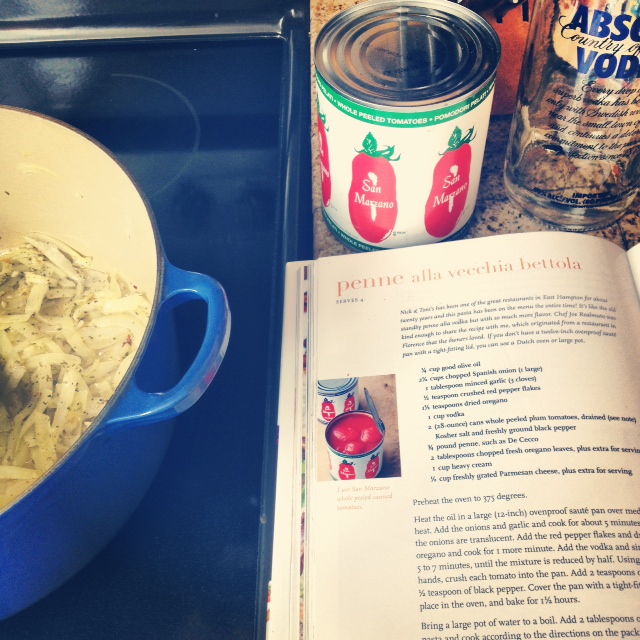 There is baby laundry in the wash.  It's all so tiny.
Now that we have the dresser that will be used for a changing table together and in place in the nursery, we can start organizing.  One load of wash is filled with the knitted and crocheted blankets we've received as gifts.  My mom's friend knit us a gorgeous purple, white and blue soft, soft, soft blanket for Baby Stroh.  And she sent me home this fall with two crocheted blankets my great-grandmother, Mimi, made for me when I was born.  One is yellow and one is white.  The white one has never been used.  I came home from the hospital in the yellow.  A knitted cream-colored blanket was sent along with a few sweet little knitted infant hats from Aunt Grace.  All such treasures.  My friend Frannie told me the knitted and crocheted blankets made by people you love are the absolute best.  When I saw her little baby in the fall, she was snuggled in a pink blanket made by the same friend who made the purple, white and blue blanket for us.  Soft.  Made with love.  And…washable!
Baby is on the move inside me.  Busy kicking and stretching.  It's very comforting.  Stay safe and warm in there, little one.
Let. It. Snow!
I think I'll make a pan of brownies now…