I think this photo captures our last weekend in New York this fall really well.
We've been fortunate to spend three weekends this year in the gorgeous Northeast in late September and again in late October.  It almost makes up for not seeing any of this beautiful part of the world this past summer.  Almost!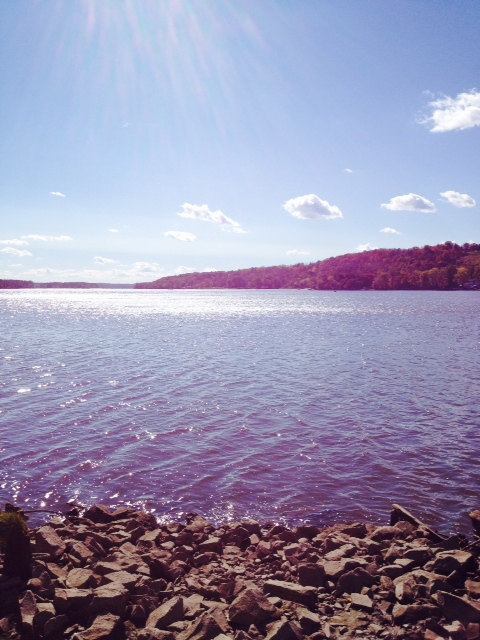 Jess and Shaun's wedding was absolutely incredible.  A joining of two cultures and traditions – her Sicilian and his Jewish – and two loving hearts.  C and I especially enjoyed the thoughtful, inclusive ceremony and then danced our socks off at the reception.  We ate and ate…and ate.  The food was fantastic.  Chris has now had the "best cannoli" of his life and the "best-ever cream vodka sauce."  Both in one night!  It was such a joyful occasion!
The next morning we met my aunt, uncle and cousin for breakfast at the Gateway Diner.  Wonderful food and catch-up time.  I keep thinking that the next time I see them, I'll have a baby.  When I was in college, my parents would pick me up and take me to the Gateway for a milkshake and grilled cheese.  I love that place.
After breakfast, my dad, Chris and I drove down to Stuyvesant to check out the mighty Hudson.  I hadn't been down to the river by way of Stuyvesant in YEARS, like, since high school.  One of my girlfriends lived above the railroad tracks near Stuyvesant Landing.  The weather was chilly but the colors of the water and landscape was just stunning and perfect, as you can see by the posted photo.  We drove down to the river by Nutten Hook as well and my dad told us about his grandfather, Henry, who cut ice for the ice houses over the winters way back when.
When my mom came home on Sunday afternoon she made a delicious sausage soup and we ate a hearty dinner.  Monday morning came after little rest and we arrived at the airport by 4:15 to get on our plane to start the journey back to Colorado.
Until next time…!