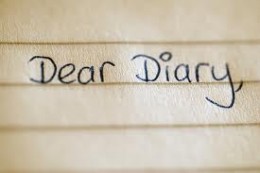 As a kid, one of my favorite things to do was sit quietly somewhere (on the lawn, with my toes in the lake, in bed on a Saturday morning) with a blank page in front of me and a pen full of ink.  I loved journaling.  I loved writing about what was happening and how I felt.  I never knew what I would do with all my tomes of thought, but as I got older and one of the shelves in my room became filled with volumes of my story.  I appreciated my effort and saw it as somewhat significant.
Last week, when I was visiting at my parents' house, I revisited some of my story.  I poured over Volume 1, which is a pink hardcover lined diary with an illustration of a cat on the front cover.  I received it for my seventh birthday from Michael.  I read through the five high school volumes – so full of angst and drama and took a look at two volumes from my freshman year of college.
Here are some short excerpts I found amusing.  They're like snapshots from my life.
"July 1, 1990
It is Michael's birthday.  We gave him a turtle.  Michael really liked the turtle.  He loved the turtle so much that Michael rote [sic] a letter to me that said: Thank you for the T. food and the T. raft.  Isn't that cute? He just turned six."
But things only went downhill from there.
"January 5, 1994
Dear Diary, This has been the worst day of my life.  First, I remember as I step on the bus I haven't got my gym clothes.  Then I can't find my book or my binder.  And after school I had an orthodontist appointment."
And then things got even worse than the worst day of my life, apparently.
"March 31, 1994
Dear Diary, Yesterday we buried Scrambler (our hermit crab).  I'm very sad.  On April 17, it's my birthday…"
After that line, I proceeded to make a long list of what I want including Billy Joel's River of Dreams.  Good luck in the afterlife, Scrambler.  I'm not one for mourning too long.  Hope you're kickin' it with your crabby homies in heaven!
I was big into current events and read the paper almost every day after school.
"April 25, 1995
…a federal building in Oklahoma City was bombed…100 people are still 'missing'."
My mom and I just talked about how much fun it was when the boys were away and we could do our own thing.
"1.21.96
…Last night my dad and brother went to Camp Rotary [Boy Scout camp]!  My mother and I rented two movies – Little Women and Green Card and ate cookies!"
In the beginning of high school, thankfully, there were more important things in my life besides sex.
"August 24, 1997
…Today, Poppa gave me 28 Pepsi Points.  Yes.  Michael only has 20 points and he's not going to get anything so he gave them to me too!  I have 88 point all together now [smiley face] I'm buying the Pepsi cap and Michael and I will share it.  I was going to get the phone card, but then I realized I had a LOT of points and I liked the cap.  It's neat.  Brooke got one last year."
And then all of a sudden, I was super interested in sex.
"5/7/01
Thinking about Mike all day long.  Lost his shorts in the wash.  [heart] B"
I'm actually not even sure who (or I guess which) Mike that was.  On second thought, I suppose he was the one walking around campus without shorts.
So keep writing.  It's easier to remember your story when you can go back and refer to it.