Grandma Betty had very clear visions for her 1950s Garrison Colonial Revival home in a small Hudson Valley town in New York State.
The more Victorian furniture, the better.
Her dark wood dressing table became mine after my Poppa passed away about fifteen years ago and my parents moved it into my childhood bedroom.  I think the piece is the picture of elegance and is ridiculously unnecessary for the modern woman, but that's what makes it so special.
Unlucky for me, I live 1800 miles away from my childhood bedroom and only get to sit at the table and pretend I'm someone else when I'm home on brief holidays.  But while at my parent's house last week sucking up their WiFi with my VPN, I took my lunch break and re-covered the seat on the dressing table bench.
That's right.  It's so easy it can be done over lunch.   Hey-yo!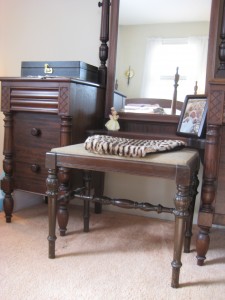 What I thought was interesting is that the fabric on the bench seemed to be original.  There are furniture tacks on the underbelly and it's worn to the quick on the corners.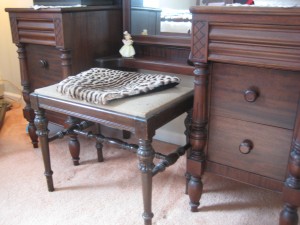 There are many reasons to believe this is not a bench that was sold with the table, but it does fit well (the turned legs and the stain for one).  I imagine Grandma Betty driving Poppa bananas tooling around Rhinebeck or Hudson looking for the "perfect" bench to go with the dressing table, which I'm sure came from an antique auction.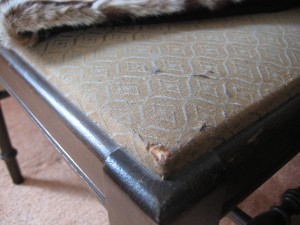 Rather than being nailed in, the seat was screwed in, so I used my dad's drill to get the screws out.  The seat popped right off.  Easy cheesy.
So, my momma loves fabric and there are rolls and bolts of it all over my parents' house (just TRY to contain them to her office).  I found this roll of Waverly material behind the door to my bedroom (handy!) and got to it.  I did not follow the classic This Old House approach to measuring–Measure Twice, Cut Once.  Rather, I took the Bridget approach–Measuring-is-for-civil-engineers, Just cut it.  And that's the beauty of recovering a very simple rectangle of a furniture seat.  If you can wrap a gift, you can recover a bench.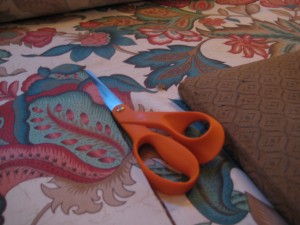 Flip the bench over and start wrapping your gift.  Again, something that makes this particular bench a breeze is that there's no batting.  Batting is a more intermediate project.  This is for beginners like me.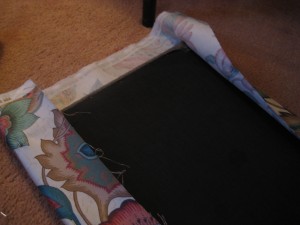 Make sure the fabric is pulled taut and staple with all you've got.  Use your muscles.  I don't have a photo of this step…but you all know what a stapler looks like.  If you don't know how to use one, pretty much the only rule is to not put your finger or any other body part in the way of the stapler and the item to be stapled.  Ask your neighbor if you have any other questions.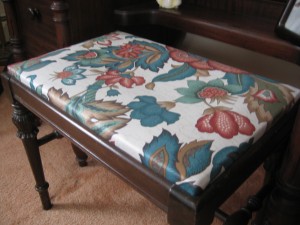 Flip it back over and screw it back in.  Sit on it and look at yourself in the mirror.  Here's where you say, "Omigosh.  Isn't that lovely? What a breath of fresh air!"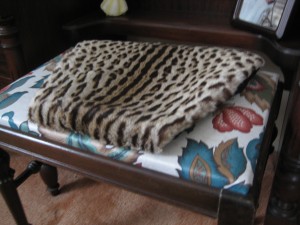 That piece of cheetah also belonged to Grandma Betty.  It is a muff.  I don't know if I mentioned she was the quintessential great-looking-swinging-single-working girl from Manhattan back in the '40s.  She adored fur.  I do have very fond memories playing with my brother at her house and pretending her minks were our pets.
There you have it.  Snazzy your world.