I was washing my hands in the ladies room at work last week when a woman in my office asked me if I had lost weight.
"Oh!  I said.  "Thank you, but no."
"Well, you look great!"
Why thank you, I thought.  And then I caught a glimpse of myself in the full length mirror as I left the room.  I looked…thin.
I knew it had to be my shoes: nude pointed toe leather pumps.  I picked them up for an unimaginable deal ($15 on clearance) at Off Broadway Shoe Warehouse at the beginning of summer and haven't looked back.  I love their height and their ability to go with just about any skirt or dress.
Black pointed toe pumps are essential to my office and every day wardrobe.  I have several pairs – from patent leather to kitten heal – and I've been sporting them since '04.  But am I on to something with the wearing of the nude?
Maybe so.
Today, while browsing blogs, I came across this site which sells all sorts of lovely paper prints – calendars and note cards.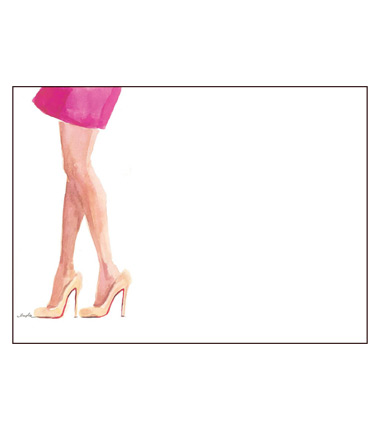 I have just added the notecards with the above print to my online shopping bag at Inslee By Design after reading the description:
Shop
Stems
A wise woman once told me that I should never be without pointed toe nude pumps. She said they go with every outfit and always make you look thinner. I figured, why not test this theory on note cards. Box of ten 4×6″ flat cards printed on 100 lb cover stock and white envelopes.
My goodness.  If two people say it is it a fact?  I'm taking a Critical Thinking course through work for two days later this week, I'll get back to you on that one.
I am smitten with Inslee's whimsical illustrations and seemingly simple concepts of ladies in dress.
Happy browsing!