C and I spent this past weekend at The Lodge at Vail with wonderful friends.
It was nothing short of fantastic, and just what the doctor ordered.  Two nights away in a very comfortable bed, fresh mountain air and lots and lots of sunshine and laughs.
On Friday when we looked at the forecast we were told we were in for highs of 65 and scattered thunderstorms.  That was not at all the case.  Mid-seventies and loads of sunshine were the order for the weekend.
Saturday, Katie and I took a leisurely stroll from Vail Village to Cascade along the wooded path and back, stopping for coffee and people watching.  We enjoyed some great pool time and then I took a late afternoon nap.
This was the view from the balcony of the Lodge on Saturday morning.  The Lodge is one of Vail's original buildings and I think, one of the prettiest (and has one of the nicest views, as you can see.)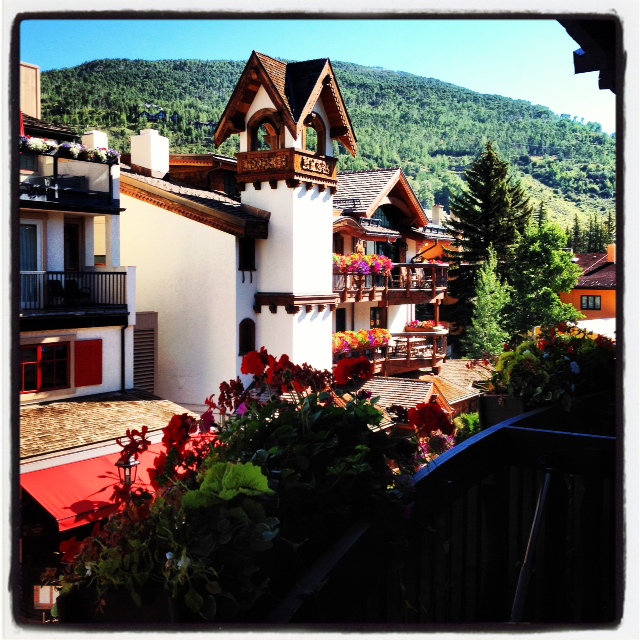 For dinner on Saturday night we ate really delish German fare at Pepi's.
It's a very European experience.  The staff was not too friendly or attentive and we waited FOREVER for our meals and for service really, but it was worth it.  Absolutely fantastic.  I had Jager Schnitzel and it was heavy and creamy and veal-y.  Ugh.  So good.  Everyone had wonderful meals.  C had the Weiner Schnitzel with spatzel.  We all shared beautiful desserts.  The apple strudel was the table favorite.
Prost!