It just looks so innocent…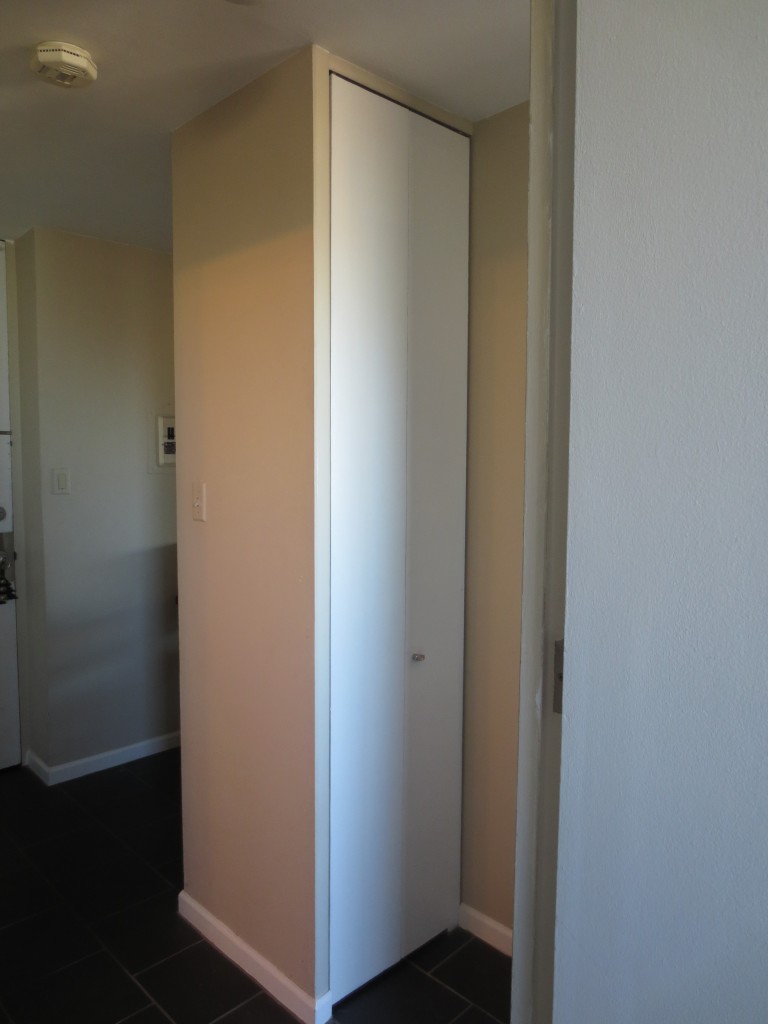 …with the door closed.
This 93″ H x 23″ W x 20.5″ D closet feels oddly shaped to me.  I realize that many linen closets are an afterthought in homes and are squeezed into design after the important rooms are settled.  I grew up in a house where the linen closet in the upstairs hallway was very shallow due to a bedroom closet and a bathtub intruding on its potential.  My momma deals with it by folding sheets in a very narrow fashion.  She does not need to mess with folding towels to fit in that closet, however.  She has room for those in the bathroom.  I do not.  Sad face.
So this is what my linen closet looked like this morning.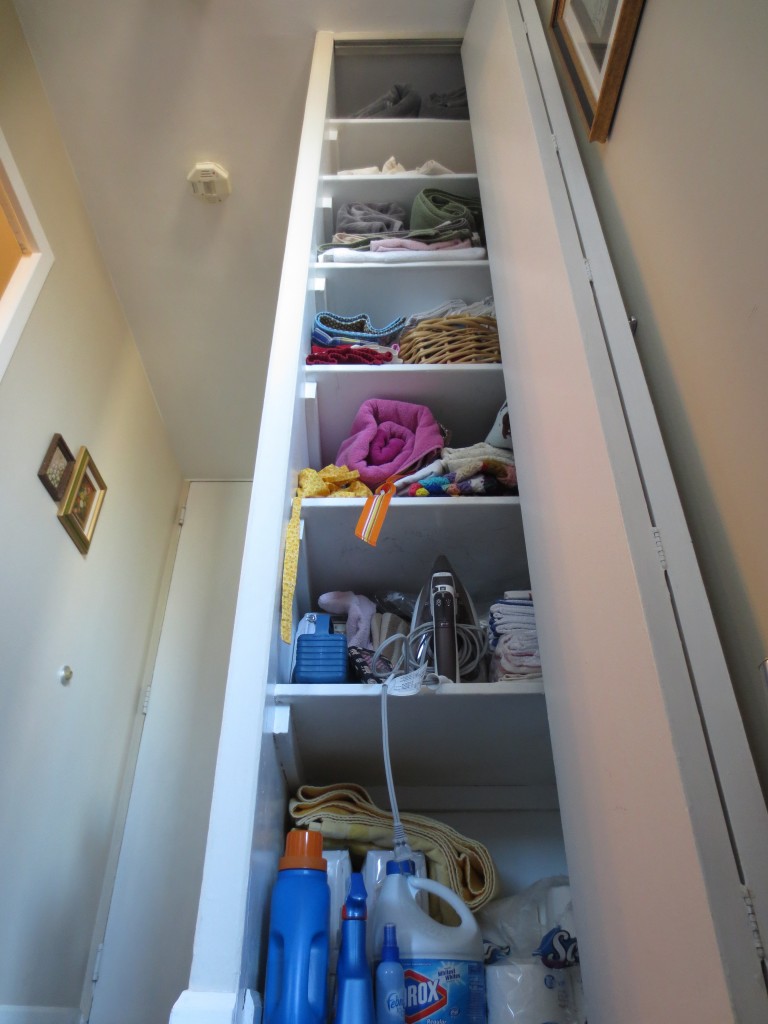 So daunting.
Chris and I have long been casually looking for houses to buy in metro Denver.  We've seen small houses and smaller houses [buying a large house in a decent neighborhood in the city, it seems, requires either a lottery win or a trust fund].  When we look at houses, I always check the linen closets.  Are they crammed with stuff?  Are they organized?  Are they…staged?
Mostly, are they bigger than our current closet?
I had to organize what's been happening here to our disaster of a linen closet.
We have sheets for our bed and for the guest bed, we have towels for the gym and our favorites and white ones we rarely use.  We have loads of cloth napkins.  We only use cloth napkins, so these are used every day and need to be accessible.  We have three beach towels.  We do not live near a beach and it is not summer in Denver.  So these do not need to be accessible.  We have laundry stuff on the floor and this closet is where we store the iron as well.  So I needed to organize around these facts.
I took it all out and threw it on the bed and refolded.
Then I put it all into organized piles and got out my ironing board and ironed some of the poor items that had been shoved into the way back of the closet.
This fun R&C crate came out of Grandma Dietz's garage.  I love it.  It's great for napkins and keeps them in folded order better than the oval-shaped basket they were stuffed in before.  Smaller items tend to get lost in the shuffle in this closest.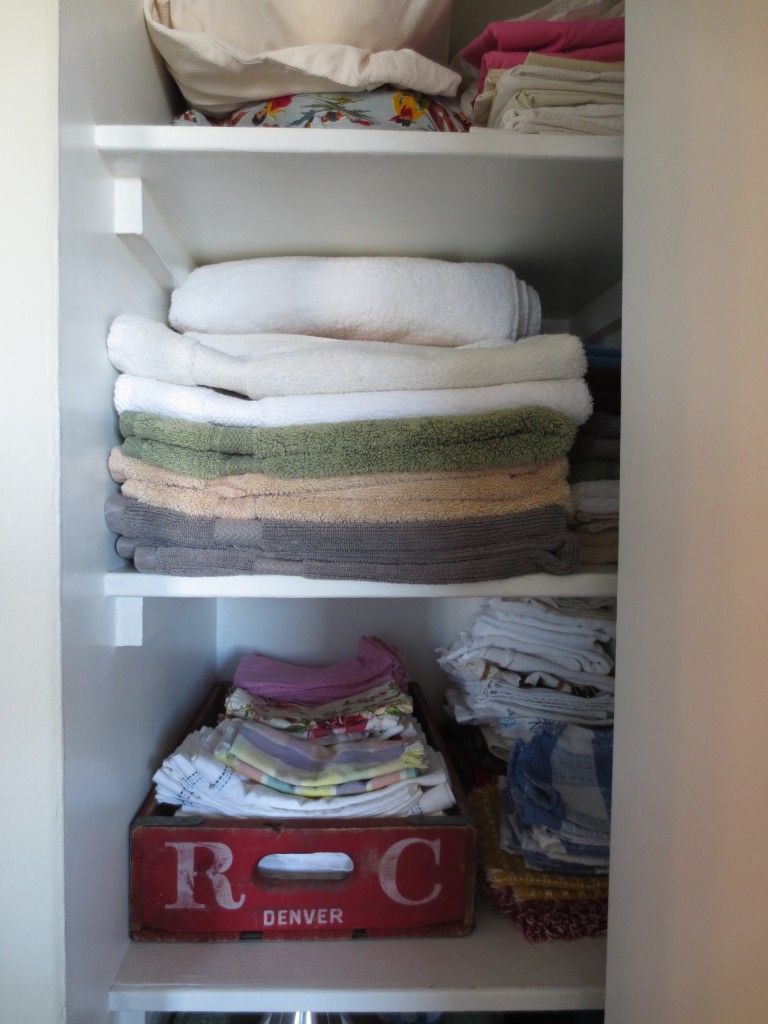 New linens we're not using yet will go on top.  I'm so excited to start using the gorgeous blue Williams-Sonoma kitchen towels.  Perhaps you think we're crazy for not using them yet.  But I love the idea of letting our current kitchen towels (a merge of my red towels from Albany and C's blue from D.C.) to completely peter out until opening the new sets.
We have new sheet sets which we will not use for a different reason.  I have grown to distrust the newer washers in our building.  With no agitator in the front-loading Kenmores, I fear the dinge isn't getting out of our whites.  I've tried everything from switching detergents to using bleach.  No avail.  I truly believe our clothes aren't as clean as they were with the old washer.  There is some evidence to support this.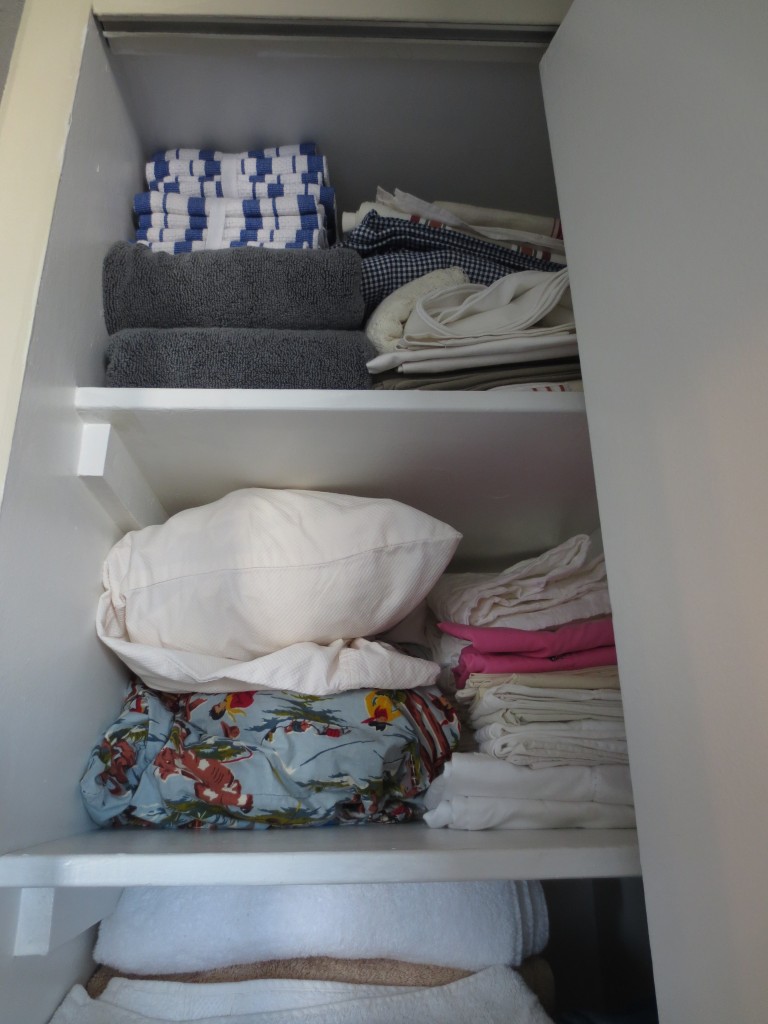 Here's a little trick I learned from Monica.  Keep your sheet sets in one of the pillowcases.  It really helps when you're ready to make up a new bed.  Cowboy sheets, anyone?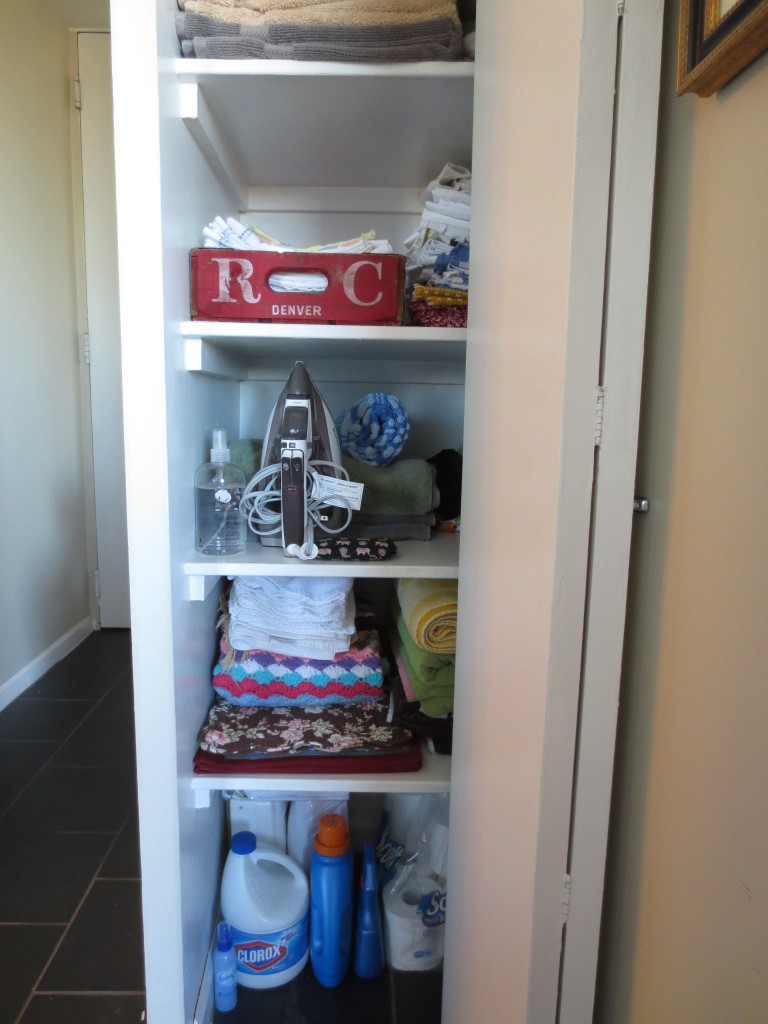 Ta-da!
Now please.  Stay this way.
Best,
Bridget