This past week I was on the phone with Momma.  I asked her what she was up to for the weekend.  She said she was helping with our church's Confirmation retreat for 40 high schoolers, getting ready to make their sacrament.  She was baking the retreat treats — 100 Cookies.
The recipe for 100 Cookies came to us because my mother bought too much shredded coconut back in the early '90s.  She purchased five pounds of it through our county food co-op.  When it arrived, she was shocked to see how much five un-sweetened pounds of coconut from a co-op actually is.
Momma asked our friend Connie what on earth she should make with all this coconut, and Connie gave her the recipe for 100 Cookies.  We fell for them.  Hard.
I bake Neiman Marcus Cookies on a very regular basis, and think they're delish.  So I imagine I haven't baked 100 Cookies since moving to Colorado.  Therefore, dear C has never had any.  I baked them and brought some to an event we attended up north last weekend.  100 Cookies were a hit.  C asked me why he'd never had any of these particular cookies before and requested I skip ever making Neiman Marcus Cookies again.  In fact, I imagine if we weren't married already, he would have just asked me to marry him right then and there.  These cookies are that good.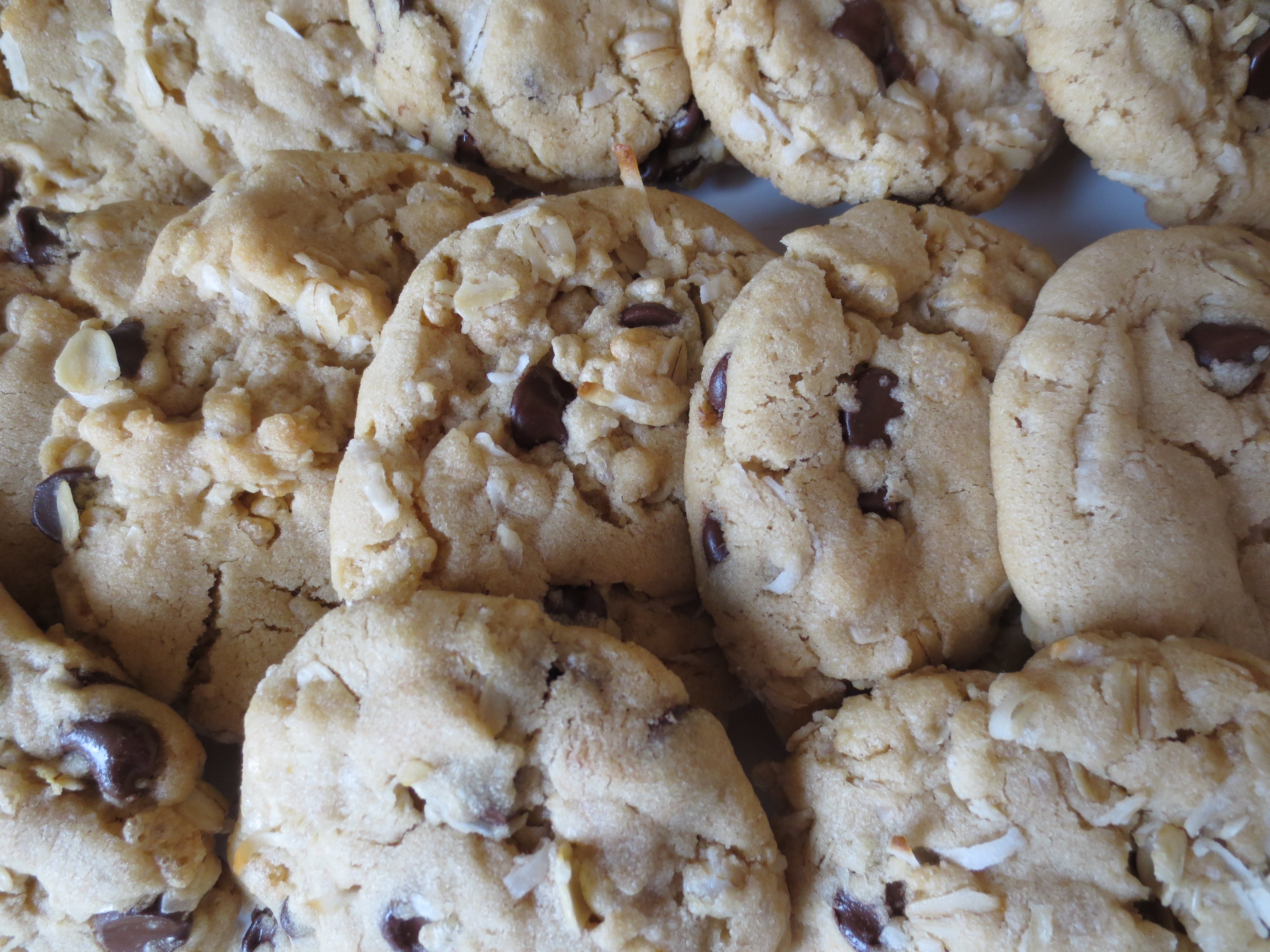 Here is the totally rad recipe from the kitchen of Connie, through my Momma.
1 c. butter
1 c. light brown sugar
1 c. white sugar
1 c. vegetable oil
1 egg
1 tsp. pure vanilla extract
1 tsp. baking soda
1 tsp. salt
3 1/2 c. flour
1 tsp. cream of tartar
1 c. Rice Krispies Cereal
1 c. rolled oats
1 c. coconut
1 12 oz. package semi-sweet chocolate chips
Cream butter, oil and sugars in a stand mixer or with a hand mixer in a large mixing bowl. Add egg and vanilla. Mix.  Add soda, salt, flour and cream of tartar.  Mix.
Stir in other ingredients by hand, one at a time.  Mix well!
Scoop cookie dough to desired size.  Bake at 350 for 10 – 12 minutes on a baking sheet.  Ensure the bottoms of the cookies are light brown before taking them out of the oven.  Cool on a baking rack.  Makes 100 cookies.  Or thereabout.