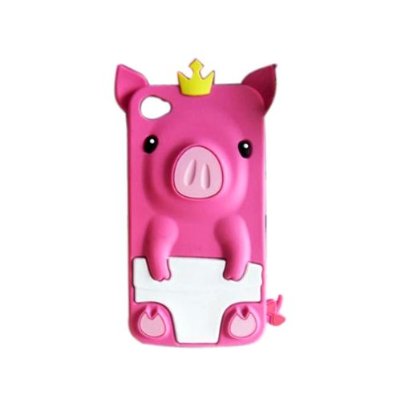 Did you know you can outfit your iPhone 4 or 4s with this beauty?  He's wearing a diaper and a crown and he's silicone!
Silicone protects.  I already knew this.
But I temporarily forgot, however, after darling C bought me the iPhone 4s for my birthday in April.  I protected it with a sweet pink giraffe-print snap-on, hard-backed case at T.J. Maxx for $5.99.
The day after our wedding one month later I was in the back seat of our friends' rental car with Micaela.  My gargantuan wedding gown sat between us.  In my tired stupor in hitching a ride that morning from the hotel to my parents' home for brunch, I absent-mindedly placed the iPhone on top of my poofy dress in the car and forgot about it for 30 minutes.  When we arrived, I pulled the gown out with me and SMACK went my phone, face down on the driveway.  The screen suffered a large spiderweb crack in the bottom left corner.
Do you know how much it costs to get your iPhone screen repaired by a reputable source that won't void your Apple warranty?  Um, a lot of dollars.
And I did get it fixed last Friday.
And all week now I've been carrying it around in a camera case because I'm hysterical I'll drop it again.
Suggestions for protective cases that aren't ugly like this one?